The Family Bloodlines
A Mixture from Britain and Finland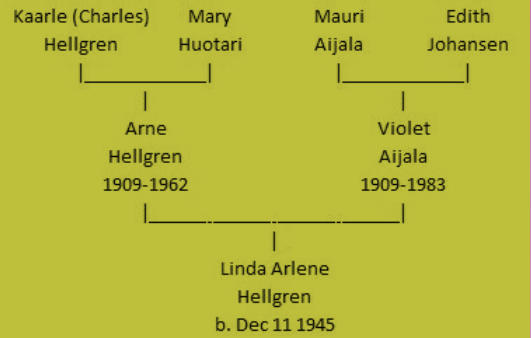 William Werden is noted as the father of Margrett, Raphe (
or Ralph) and Richard in the "Lancashire: Brindale - Parish
Register, 1558-1714" as a record of Baptism. Also see FHL
film # 0844796IT 2 in the England, Select Births and
Christenings, 1538-1975.
What's Known and Questions left to answer:
The bishop's transcripts of the parish records show the
marriage of Richard to Katharine 28th June 1663. It is likely
Richard's second marriage, given his age. They lived in
Penwortham, Lancashire and had three children, Ralph,
Margaret and Richard.
Ralph married Margaret Taylor of Walton Le Dale 17th April
1692 as recorded in the Bishop's transcripts. They had
three children, Richard, William and Elizabeth.
From the records of

England, Select Births and Christenings,
1538-1975

(FHL #0844802IT 1) Richard was baptized in
Walton Le Dale, Lancashire on 5th March 1693 with Ralph
noted as the father.
From the records of
England, Select Births and Christenings,
1538-1975
(FHL #0844802IT 1&3) and Bishop's Transcripts,
Ralph Worden was born and baptized (16 Sep 1736), wed
Alice Walmsley (27 Jan 1761) and was buried in Walton le
Dale (20 Dec 1816). Ralph's occupation was as a weaver and
a Roman Catholic like the rest of the family. They had six
children, Richard, William, Thomas, John, Jinny and Margaret.
The record of the FHL Film File Number 942 B4C V.23 gives
the baptism of Thomas Worden with father Ralph Worden
and mother Alice as 10th Jan 1770 at St. Joseph (RC) in
Brindle, Lancashire. On 16th Jan 1802 the Bishop's Transcript
gives the marriage of Thomas, a weaver, to Ann Unsworth
Of Brindle.
The FHL record also shows John W. Worden, son of Thomas
and Ann Worden, born 11th Sep and baptised 14th Sep 1805
in Brindle Lancashire. He was a master currier (skilled crafts-
man in leather) in Preston. He married Agnes Farnsworth 24th
Sep 1829 in St John's. Agnes had two children from her
previous marriage to John Winder. John Worden and Agnes
had four children of their own, Robert, William, Joseph and
Agnes as borne out in the 1841 and 1851 censuses.
Born 23rd Mar 1836, William, a joiner, married Margaret
Caton 15th Dec 1857. The two had 10 children; John William
1858, Agnes 1861, Elizabeth Ellen 1866, Mary Jane 1867,
Thomas 1869, Ann Alice (Amelia) 1871, Louisa 1871, Charles
Henry 1873, George Stanley 1878 and May 1888.
Charles Henry, who was a property manager for a theatre
married Hannah (Annie) Hayes, a dancer originally from Iron
Bridge, Shropshire, in Jan 1987. When Charles died in 1908,
he left Annie to bring up seven children; Charles W. H. 1897,
Frances May 1898, Annie 1899, Lily 1901, John William 1903,
George Stanley 1904 and Margaret J. 1908. She is noted as an
office caretaker in the 1911 census.
George Stanley, 1904-1989, worked as a plumber in Preston.
He married Lillian May Swift (1906-1973) daughter of Herbert
Swift, a well respected journalist, owner of a free lance news
agency in Preston and a vice president and secretary of the
Preston Chamber of Commerce. They had one son, Eric
Stanley, and three daughters, Joan, Barbara and May.
The earlier spellings of the surname appear to most often be Werden. This might possibly be derived
from Old English wer 'weir' + denu 'valley'. By the early 18
th
Century, this alternative spelling, Werden,
disappears. The Wordens of Lancashire appear to have been mainly centred around Preston
and Chester based on early records. Place names associated with the family include Penwortham,
Leyland (also Clayton in the parish of Leyland), Chorley, Walton-le-Dale, Brindle (or Brindale), Euxton,
Croston and Farington. All these locations are within an easy walk of Preston, Lancashire in England.
By Tudor times, the Worden name of our bloodline is associated with Penwortham , a village south of
the River Ribble opposite Preston in Lancashire. In the Registers of the Parish Church of Penwortham, in
the county of Lancaster, 1608-1755, Raphe s. of Rich: Werden de Middlefforth is named as baptized 28
Apr 1664. There is also a mention of a will from 1632 in the court of Probate at Chester for a George
Worden of Middleworth. Now Middleforth is an area of Pentwortham so the "de/of" indicates the
possibility of minor nobility, country squires or burgesses. There was a Worden Hall in nearby Leyland
owned by the Farington family which raises another question or two.
By the late 1600's it appears that principal members of the family line had moved to Walton Le Dale in
Lancashire , a couple of miles from Penwortham. From then until the mid 1800's the family moved to
Brindle and Euxton before settling in Preston proper.
It is notable that our branch of the family remained faithful to the Roman church during times when that
wasn't an easy choice. So it is not too surprising that the name crops up as supporting the Royaltist
cause during the Civil War period. However, like the US civil war, the English one saw families split.
Indeed, some Wordens also appeared to support the Parliamentary side (the name Worden appears in
the Protestation of 1642 in the Parish of Preston).
As my research stands at this time, I have reached a limit with documentation to extending the
bloodline back in time. I can find several tantalising possibilities but with no way to confirm the truth or
not , they can be nothing but possibilities. As an example consider the chart below….
the William Werden, father of my ancestor Richard who lived from 1616 to 1668, is but a mention in
contempory records without any indication (so far) of his parentage. Now, during the preceding century,
as is evident below, there was a proliferation of William Werdens. So considering the particular family
tree displayed, there are two intriguing possibilities that one of these is linked to my William. But then
again maybe this bloodline has nothing to do with mine or maybe my William is actually a natural son of
this bloodline. Genealogy can be

so

frustrating at times!
Since I wrote the above, I have been able to prove by DNA that my bloodline does intersect with (what I
wii call) the Leyland Werdens. That's the same line that so many who trace their lineage through to Peter I
and Peter II (My haplotype is the same J-M172). But I still don't know where my William fits in exactly, all I
can say with any certainty is that is fits somewhere into the tree below.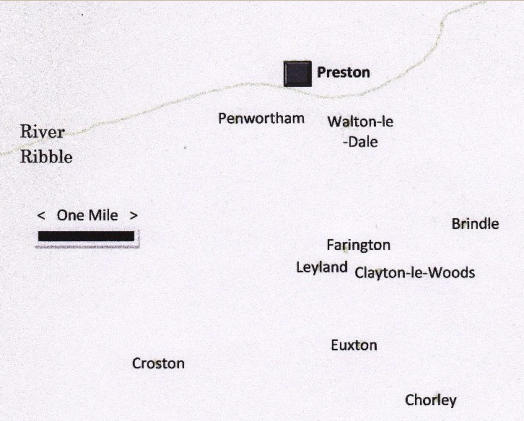 Map of places where the name Worden is recorded